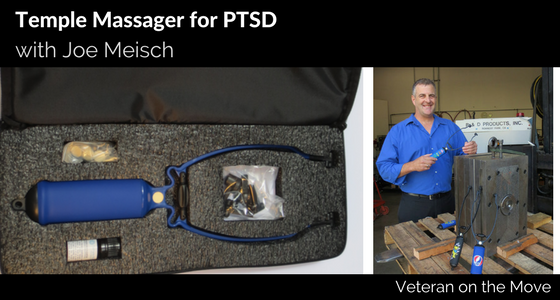 Listen to the Episode Below (48:40)
196: Temple Massager for PTSD by Army Veteran Joe Meisch
Relieve muscle tension and migraines with the Temple Massager for PTSD by Army Veteran Joe Meisch. Through this relaxing tool, Joe is able to help support service members and military veterans. Tune in and learn where you can purchase a Massager and help the community!   
"If you keep driving forward and keep going, people will join you." – Mahatma Gandhi
Temple Massager for PTSD
Joe served for about 13 years in the military. Although he was never deployed in combat, he still enjoyed his career.
Years later after his transition, he discovered the relaxing massager for the face and head. It is now known as the Temple Massager, which also helps get rid of migraines and muscle tension.
Military Experiences and Business
Joe was inspired to create the Massager in 2005. It enabled him to re-embrace the military culture he once thrived.
His experiences served as the foundation for running his business. He successfully got a patent for the Temple Massager.
For the Wellness of the Community
Just about the time when Joe had the idea for the Massager, his former supervisor was KIA in Iraq. It pulled him down that he treated himself poorly.
Eventually, he got connected with a PTS organization. And that gave him the opportunity to share his Massager with others. He worked with Walter Reed to give away his tool in the resiliency clinic, Chaplain's Office, and behavior health.
To hear about the Temple Massager for PTSD by Army Veteran Joe Meisch, download and listen to this episode.
Don't forget to leave us a 5-star rating and review if you enjoyed the show. We would love to hear from you!
Check out these links to the episode Temple Massager for PTSD by Army Veteran Joe Meisch:
Download Joe Crane's Top 7 Paths to Freedom or get it on your mobile device. Text VETERAN to 38470.
Guest Bio Joe Meisch
Joe Meisch (sounds like Mysh) is a 12 B Combat Engineer Army reserve, guard, and TDY veteran for 13 years. He designed, patented, and manufactures a CAM (Complimentary Alternative Medicine) therapy tool for non-invasive non-pharmacological TBI chronic tension headaches and PTS / anxiety calming.
Currently, he is in pilot study for mild to moderate Traumatic Brain Injury chronic tension headache with Veterans Administration and Stanford School of Medicine and overwatched by DoD, Defence and Veterans Brain Injury Center.
Join the Veteran on the Move on Facebook!
Check out Veteran on the Move on Facebook to connect with our guests! It's also a great place where you can stay in touch with other veterans who are transitioning to entrepreneurship, and get updates and free gouge on the people programs and resources to help you in your transition to entrepreneurship.
The Veteran On the Move podcast has published over 150 episodes giving listeners the opportunity to hear in-depth interviews conducted by host Joe Crane featuring the people, programs and resources to assist veterans in their transition to entrepreneurship: Marine Corps, Army, Navy, Air Force and Coast Guard veterans, DOD, entrepreneurship, business, success, military spouse, transition, education, programs and resources.  Veteran On the Move has garnered over 500,000 listens verified through Stitcher Radio, Sound Cloud, Itunes and RSS Feed Syndication making it one of the most popular Military Entrepreneur Shows on the Internet Today.