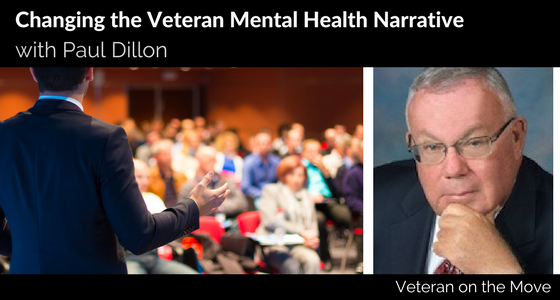 Listen to the Episode Below (33:39)
194: Changing the Veteran Mental Health Narrative with Paul Dillon
Paul Dillon is an army veteran from the Vietnam era. He is changing the veteran mental health narrative with his participation in the Kennedy Forum on Mental Health. They have programs and resources that are set to help veterans overcome disorders such as mental illness, PTSD, traumatic brain injury, and substance abuse. Tune in!
"There is no reason not to be ready for duty and that warrior mantra carries over to people who can have mental illnesses, PTSD, [and other disorders]. It is the strong person who acknowledges them and seeks help." – Paul Dillon
US Army Reserve Veteran
Paul was awarded two Bronze Star Medals from his services in the army, where he became part of the United States Army Reserve. His career led him to serve in Vietnam as a 1st Lieutenant.
Career Accomplishments
Paul is now a Certified Management Consultant, and is the President and CEO of Dillon Consulting Services, LLC. He's been in the professional services industry for more than 42 years.
His works have appeared on various publications. Among which are Forbes, HuffPost, American Express OPEN Forum, eLearners.com, Crain's Chicago Business, and the National Federation of Independent Businesses newsletter.
He also appeared on radio programs and podcasts, and is known for his bank of knowledge regarding national veterans. On top of it all, he also created and co-taught the first course on veteran issues at the University of Chicago Harris School of Public Policy.
Empowering and Representing Veterans
Representing the veteran community, Paul helps them overcome disorders. He also helps veterans ensure mental health parity in the private sector.
Other works for the veterans:
Bunker Labs veteran startup incubator
VetStart veteran entrepreneur support organization, now Bunker RDU
Veteran in the WorkPlace: Myths and Realities paper
To hear about Paul's passion and more about the Kennedy Forum, download and listen to Changing the Veteran Mental Health Narrative with Paul Dillon.
Don't forget to leave us a 5-star rating and review if you enjoyed the show. We would love to hear from you!
Check out these links to the episode Changing the Veteran Mental Health Narrative with Paul Dillon:
The Kennedy Forum Illinois
Transitions 2.0 book
Download Joe Crane's Top 7 Paths to Freedom or get it on your mobile device. Text VETERAN to 38470.
Join the Veteran on the Move on Facebook!
Check out Veteran on the Move on Facebook to connect with our guests! It's also a great place where you can stay in touch with other veterans who are transitioning to entrepreneurship, and get updates and free gouge on the people programs and resources to help you in your transition to entrepreneurship.
The Veteran On the Move podcast has published over 150 episodes giving listeners the opportunity to hear in-depth interviews conducted by host Joe Crane featuring the people, programs and resources to assist veterans in their transition to entrepreneurship: Marine Corps, Army, Navy, Air Force and Coast Guard veterans, DOD, entrepreneurship, business, success, military spouse, transition, education, programs and resources. Veteran On the Move has garnered over 500,000 listens verified through Stitcher Radio, Sound Cloud, Itunes and RSS Feed Syndication making it one of the most popular Military Entrepreneur Shows on the Internet Today.