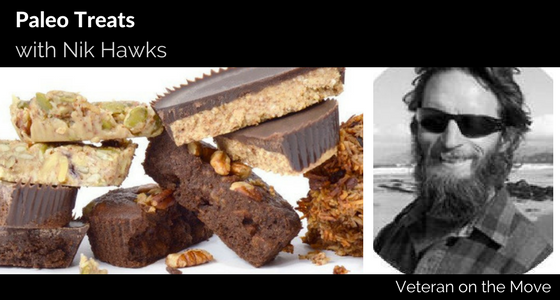 Listen to the Episode Below (45:02)
195: Paleo Treats by Navy Veteran Nik Hawks
Chocolate cookies, brownies — how would you like to have some healthy, gluten-free desserts? Joe Crane shares Paleo Treats by Navy Veteran Nik Hawks. Listen to his story and learn how you too can avail of these healthy, delectable treats!   
"You think about the difference in quality and the difference in price, you're basically getting a superific deal on healthy desserts." – Nik Hawks
From the Navy to Entrepreneurship
Nik joined the Navy in 1995. He had a great time doing the things he dreamed of. In the year 2000, he transitioned into the civilian life.
When he met the woman who was to become his wife, she was sold out on entrepreneurship. He saw the possible things he could achieve if he did the same thing. And that inspired him in his journey.
One Valuable Skill from the Military
Nik saw that even with his well-honed skills, they were not very useful in the civilian life. The hard skills they have like shooting or jumping from an airplane do not transfer well.
According to him, learning to do something easily and well is a valuable skill that most Veterans take away from their career in the military. They can step into any job and learn it easily.
Paleo Treats for Crossfitters
Nik started one business after another. He experienced building websites, running a T-shirt company, as well as driving around California with a mobile notary for real estate.
It was in 2009 when he and his wife came across Paleo treats for crossfitters. They started that business and their products were sold out as early as 10 AM in the first day.
To this day, they sell healthy desserts. Among which are brownies and chocolate bars. All are strictly made of Paleo ingredients and are also tasty.
To hear about Paleo Treats by Navy Veteran Nik Hawks, download and listen to this episode.
Don't forget to leave us a 5-star rating and review if you enjoyed the show. We would love to hear from you!
Check out these links to the episode Paleo Treats by Navy Veteran Nik Hawks:
Download Joe Crane's Top 7 Paths to Freedom or get it on your mobile device. Text VETERAN to 38470.
Nik Hawks Guest Bio
Nik Hawks is a former Navy veteran who decided to follow the unconventional route when he transitioned out. From buying a 22′ sailboat and taking it from San Diego to Florida, to running 100 miles in the mountains, to starting multiple companies including a successful online cookie shop, Nik has explored far beyond the standard life.
Join the Veteran on the Move on Facebook!
Check out Veteran on the Move on Facebook to connect with our guests! It's also a great place where you can stay in touch with other veterans who are transitioning to entrepreneurship, and get updates and free gouge on the people programs and resources to help you in your transition to entrepreneurship.
The Veteran On the Move podcast has published over 150 episodes giving listeners the opportunity to hear in-depth interviews conducted by host Joe Crane featuring the people, programs and resources to assist veterans in their transition to entrepreneurship: Marine Corps, Army, Navy, Air Force and Coast Guard veterans, DOD, entrepreneurship, business, success, military spouse, transition, education, programs and resources.  Veteran On the Move has garnered over 500,000 listens verified through Stitcher Radio, Sound Cloud, Itunes and RSS Feed Syndication making it one of the most popular Military Entrepreneur Shows on the Internet Today.