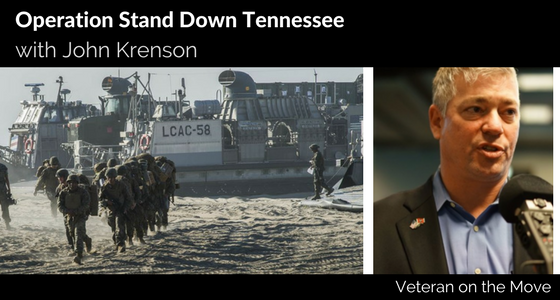 Listen to the Episode Below (32:31)
193: Operation Stand Down TN Army Guard Veteran John Krenson
In this episode, Joe Crane discusses Operation Stand Down TN Army Guard Veteran John Krenson. John is now the CEO of Operation Stand Down Tennessee, which focuses on helping veterans and their families connect with their communities. Tune in to learn about it!  
"Make sure to reach out and don't isolate. You're not doing yourself, your nation, or your family any service by choosing the path to destruction." – John Krenson
In Army Guard Service
John served for 32 years in the Army Guard. After the 9/11, he was deployed to Iraq and Afghanistan. He's also participated in disaster recovery operations.
The first half of his career focused on being a traditional guardsman, being a part of the strategic reserve, and the Cold War. In 2012, he graduated from the Army War College.
Transition and Disconnectedness
During his first deployment, John co-owned a chemical company. Later on, he sold his shares to his long time friend.
He became an independent contractor afterwards. He learned a lot of skills from his experiences overseas.
But, he came to a point when he had to start from scratch. It took him awhile to re-establish himself.
About Operation Stand Down TN
Operation Stand Down started in 1993 as a 3-day event for homeless veterans. They especially wanted to reach out to those who served in the Vietnam War.
Now, they have services built around all veterans and their families. Among them are career transitions, life skills programs, and volunteer opportunities.
To hear about Operation Stand Down TN Army Guard Veteran John Krenson, download and listen to the entire episode.
Don't forget to leave us a 5-star rating and review if you enjoyed the show. We would love to hear from you!
Check out these links to the episode Operation Stand Down TN Army Guard Veteran John Krenson:
Download Joe Crane's Top 7 Paths to Freedom or get it on your mobile device. Text VETERAN to 38470.
Join the Veteran on the Move on Facebook!
Check out Veteran on the Move on Facebook to connect with our guests! It's also a great place where you can stay in touch with other veterans who are transitioning to entrepreneurship, and get updates and free gouge on the people programs and resources to help you in your transition to entrepreneurship.
The Veteran On the Move podcast has published over 150 episodes giving listeners the opportunity to hear in-depth interviews conducted by host Joe Crane featuring the people, programs and resources to assist veterans in their transition to entrepreneurship: Marine Corps, Army, Navy, Air Force and Coast Guard veterans, DOD, entrepreneurship, business, success, military spouse, transition, education, programs and resources.  Veteran On the Move has garnered over 500,000 listens verified through Stitcher Radio, Sound Cloud, Itunes and RSS Feed Syndication making it one of the most popular Military Entrepreneur Shows on the Internet Today.