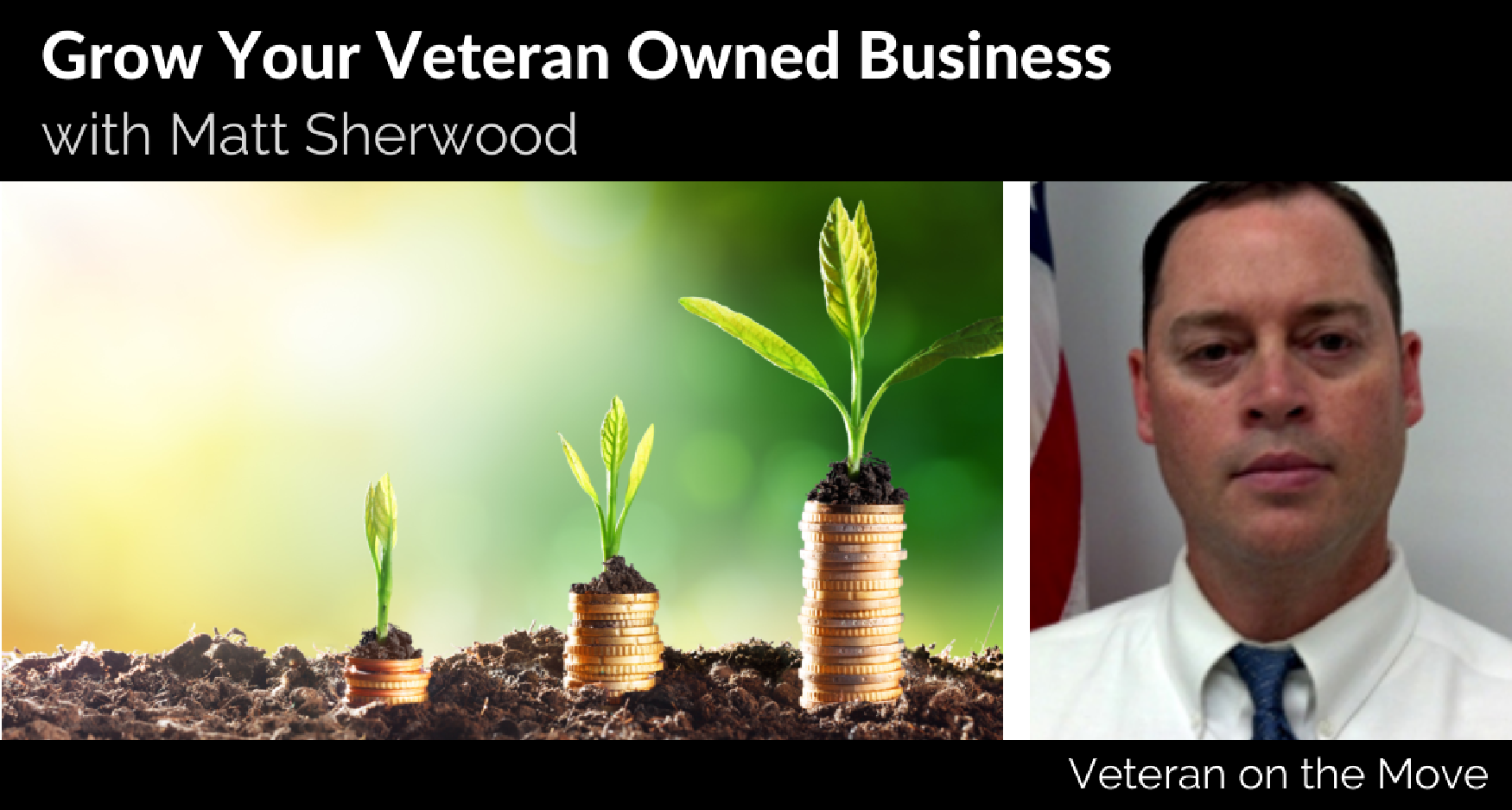 Listen to the Episode Below (36:10)
185: Grow Your Veteran Owned Business with Army Veteran Matt Sherwood
Find out how to grow your veteran owned business with army veteran Matt Sherwood. Matt is the Executive Director for VetBizCentral. He brings a high level of commitment and has focused his efforts on providing new and existing veteran business owners his business insights and experiences. Tune in!
"It's good corporate stewardship for the Fortune 500 and 1000 companies to include veteran businesses into their supply chains; we buy a lot of stuff." – Matt Sherwood
From the Military to VetBizCentral
Matt served in the army from 1994 to 1997. He served as a topographical surveyor and worked with engineers.
When he transitioned out, he went to rehab for his back injury. Afterwards, he went back to school and got his MBA.  
He then proceeded to work in the private sectors as well as in the local government. In 2009, he got in touch with his colleague and started working for VetBizCentral.
An Expert of the Business Process
Matt always had the entrepreneurial bug. He is passionate about helping his fellow veterans understand the ecosystem and access the existing resources.
He is a strong advocate for veteran business certification within Michigan, Ohio, and Indiana.
His experience in helping veterans understand the federal and state procurement capture process is a real value to veteran business clients that are ready to take that next step to grow their business.
Corporate America and Veterans
Matt shares that there are currently millions of veteran owned businesses. Many of the small businesses need help on technology.
He saw the increasing demand by corporate America to engage with them. According to him, the corporate world now understands and sees the impact of the veteran community.
To learn how to Grow Your Veteran Owned Business with Army Veteran Matt Sherwood, download and listen to the entire episode. Don't forget to leave us a 5-star rating and review if you enjoyed the show. We would love to hear from you!
Check out these links to the episode
Grow Your Veteran Owned Business with Army Veteran Matt Sherwood
:
Download Joe Crane's Top 7 Paths to Freedom or get it on your mobile device. Text VETERAN to 38470.
Join the Veteran on the Move on Facebook!
Check out Veteran on the Move on Facebook to connect with our guests! It's also a great place where you can stay in touch with other veterans who are transitioning to entrepreneurship, and get updates and free gouge on the people programs and resources to help you in your transition to entrepreneurship.
The Veteran On the Move podcast has published over 150 episodes giving listeners the opportunity to hear in-depth interviews conducted by host Joe Crane featuring the people, programs and resources to assist veterans in their transition to entrepreneurship: Marine Corps, Army, Navy, Air Force and Coast Guard veterans, DOD, entrepreneurship, business, success, military spouse, transition, education, programs and resources.  Veteran On the Move has garnered over 500,000 listens verified through Stitcher Radio, Sound Cloud, Itunes and RSS Feed Syndication making it one of the most popular Military Entrepreneur Shows on the Internet Today.