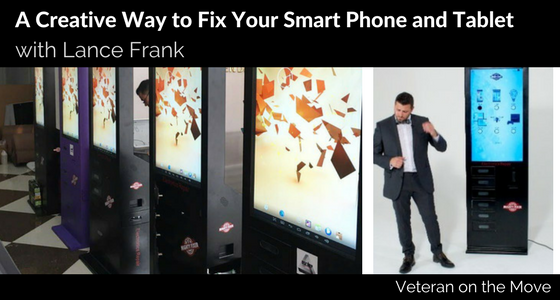 Listen to the Episode Below (37:01)
192: A Creative Way to Fix Your Smartphone and Tablet with Lance Frank
Air Force veteran Lance Frank is the Founder of Mighty Fixer, a multi-platform and entertainment company. Listen how he transitioned from the military to a different industry, and discover a creative way to fix your smartphone and tablet. Tune in!
"Take initiative. Nothing's going to happen if we sit around." – Lance Frank on the most important lesson he learned from the military
Service in the Air Force
Lance served in the military from 1998 to 2002. He was part of the Air Force security force, which was referred to as one of the most feared units because of their unpredictability.
Pursuing Dreams
Lance always wanted to be a business owner. He already thought about opening a clothing store when he'd transition out.
But, September 11 came that time and he became a Federal Air Marshal. Later on, he got into an accident and broke his foot. That opened the door for him to move to Los Angeles and pursue what he wanted to do.
Into the Entertainment Industry
While in Los Angeles, Lance worked as a film extra. That was how he met a technical adviser who taught him about the industry.
He gave Lance the opportunity to become a part of the set for a specific film. A couple more opportunities opened to him afterwards.
To hear about A Creative Way to Fix Your Smartphone and Tablet with Lance Frank, download and listen to the entire episode.
Don't forget to leave us a 5-star rating and review if you enjoyed the show. We would love to hear from you!
Check out these links to the episode
A Creative Way to Fix Your Smartphone and Tablet with Lance Frank
:
Download Joe Crane's Top 7 Paths to Freedom or get it on your mobile device. Text VETERAN to 38470.
Join the Veteran on the Move on Facebook!
Check out Veteran on the Move on Facebook to connect with our guests! It's also a great place where you can stay in touch with other veterans who are transitioning to entrepreneurship, and get updates and free gouge on the people programs and resources to help you in your transition to entrepreneurship.
The Veteran On the Move podcast has published over 150 episodes giving listeners the opportunity to hear in-depth interviews conducted by host Joe Crane featuring the people, programs and resources to assist veterans in their transition to entrepreneurship: Marine Corps, Army, Navy, Air Force and Coast Guard veterans, DOD, entrepreneurship, business, success, military spouse, transition, education, programs and resources.  Veteran On the Move has garnered over 500,000 listens verified through Stitcher Radio, Sound Cloud, Itunes and RSS Feed Syndication making it one of the most popular Military Entrepreneur Shows on the Internet Today.