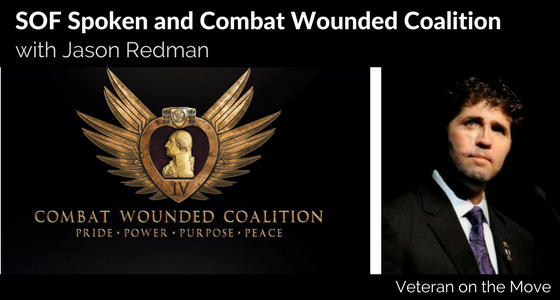 Listen to the Episode Below (39:08)
190: Combat Wounds to Wounded Wear and Combat Coalition Navy Seal Jason Redman
Navy SEAL veteran Jason Redman overcame tragedy and successfully transitioned into entrepreneurship. Now, through his endeavors, he is able to inspire warriors and fellow veterans to not feel sorry for their combat injuries. Tune in!
"There is only one path: forward. There is only one motto: I overcome. Lead yourself to success." – Jason Redman
Entrance to the Navy
Jason joined the Navy in high school. At the beginning of his career, he did counter drug operations in Central and South America.
He eventually became the instructor in his SEAL team and went into a commissioning program. By 2001, he attended school.
The 9/11 attack did not deter him from his studies. He returned to the Navy after graduation. Little did he know that he would be leading men with combat experience.
The Impact of a Combat Injury
Jason went into a combat operation in Iraq. While there, a big gun fight almost took off his arm. Still, he wanted to finish his career in the military.
For 21 years until he retired, he did special projects in the operations unit. He was under light duty status. And from time to time, he would undergo surgery to recover from his injury.
Spreading Awareness and Inspiration
While he was still recovering, Jason was surprised the lack of awareness across the U.S. He also saw the need for modified clothing among wounded warriors. Jason himself found it difficult to wear regular apparel.
That inspired him to start Wounded Warriors. He said, "We started producing clothing to raise awareness of the sacrifice of our wounded warriors."
The company grew, and now he is working with a university on a leadership program called The Overcome Academy. They help wounded warriors learn how to lead themselves and to purposefully share their story to others.
To hear Jason's story and learn how you can contribute to the cause, download and listen to Combat Wounds to Wounded Wear and Combat Coalition Navy Seal Jason Redman.
Don't forget to leave us a 5-star rating and review if you enjoyed the show. We would love to hear from you!
Check out these links to the episode
Combat Wounds to Wounded Wear and Combat Coalition Navy Seal Jason Redman
:
Download Joe Crane's Top 7 Paths to Freedom or get it on your mobile device. Text VETERAN to 38470.
Join the Veteran on the Move on Facebook!
Check out Veteran on the Move on Facebook to connect with our guests! It's also a great place where you can stay in touch with other veterans who are transitioning to entrepreneurship, and get updates and free gouge on the people programs and resources to help you in your transition to entrepreneurship.
The Veteran On the Move podcast has published over 150 episodes giving listeners the opportunity to hear in-depth interviews conducted by host Joe Crane featuring the people, programs and resources to assist veterans in their transition to entrepreneurship: Marine Corps, Army, Navy, Air Force and Coast Guard veterans, DOD, entrepreneurship, business, success, military spouse, transition, education, programs and resources.  Veteran On the Move has garnered over 500,000 listens verified through Stitcher Radio, Sound Cloud, Itunes and RSS Feed Syndication making it one of the most popular Military Entrepreneur Shows on the Internet Today.